How to Choose Replacement Windows
Replacing your windows is a great way to add value to your home and improve its energy efficiency. This article will provide guidance on how to choose the best replacement windows for your home. It will cover topics such as types of windows, materials, energy ratings, warranties, and installation considerations. The goal is to ensure readers can make informed decisions when selecting the right window replacement options for their homes.
Compare Prices
Consider Types of Replacement Windows Available
Understanding the different types of windows available and how they can affect your home's look and energy efficiency is a large part of choosing a replacement window. There are a number of different types of replacement windows available, and selecting the right type can have a big impact on your home's energy efficiency and overall look.
Double-Hung Windows
Double-hung windows are one of the most popular types of replacement windows due to their versatility.
They feature two sashes that open upward and downward, allowing for both ventilation and ease of cleaning.
Casement Windows
Casement windows are also popular due to their easy operation and energy efficiency.
These windows feature a single sash that swings outward on a hinge, making them easier to open than double-hung windows.
Slider Windows
Slider windows are another good option since they can be opened from either side, while awning windows open outward at the bottom and are often used in bathroom areas.
Bay and Bow Windows
Bay and bow windows can be great choices for adding a bit of architectural interest to your home's exterior.
These types of windows are composed of three or more windows that project outward from the wall creating a "bay" or "bow" shape.
What is the Best Type of Replacement Windows?
The best type of replacement windows is not a one-size-fits-all situation. The best type of replacement windows for your home will depend on budget and style preferences, as well as the specific needs of your home and climate.
Compare Prices
Double-hung windows are a great choice for most homes and offer the versatility of both ventilation and ease of cleaning, while casement windows provide good energy efficiency.
Slider windows, and bay and bow windows can also be great options to add some architectural interest to the exterior of your home, while awning windows may work well in bathrooms or other areas.
If you are looking for the most energy-efficient option, consider investing in windows with high Energy Star ratings.
Finally, to ensure you get the best type of replacement windows for your home and budget, it's important to choose a reputable company that offers quality products and installation services.
Think About Replacement Window Materials
The material of your window frame will determine its energy efficiency, durability, and cost.
Select Cost-Effective Windows
Wood frames are a popular choice due to their aesthetics and insulation capabilities, but they require regular maintenance to prevent rotting or warping.
Vinyl frames are a good option for those looking for an affordable and low-maintenance material.
Fiberglass frames are another popular choice due to their ability to withstand extreme temperatures, while aluminum frames are great for strength and durability.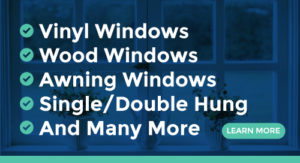 Select Eco-Friendly Materials
The materials used in windows have an impact on their energy efficiency.
Look for windows made with eco-friendly materials such as fiberglass, insulated vinyl, or aluminum frames that are low maintenance and can help reduce heating and cooling costs.
Compare Prices
Check Replacement Windows Energy Ratings
It is important to check the energy ratings of replacement windows as they can help you determine the window's ability to keep your home comfortable and energy costs low.
The National Fenestration Rating Council (NFRC) rates windows based on their U-factor, Solar Heat Gain Coefficient (SHGC), Visible Transmittance (VT), and Air Leakage (AL).
It is important to select a window with a rating that is appropriate for your area's climate.
Consider the Warranty
When selecting replacement windows, it is important to consider the warranty offered on the products.
Most manufacturers will offer a limited warranty on their windows which can cover defects in material and workmanship.
It is also important to make sure you are aware of any restrictions or exclusions in the warranty.
Consider Installation Considerations
When selecting replacement windows, you should also consider the installation process.
It is important to choose a window installer with experience in installing the type of window you selected and make sure they are licensed and insured.
In addition, it is important to make sure the contractor provides an estimate of the cost of materials and labor before starting the installation process.
Being informed about these factors before choosing a replacement window can help ensure your satisfaction with the outcome of your project.
With these considerations in mind, you can be sure to find the perfect windows for your home.
Cost of Different Replacement Windows
The cost of different replacement windows can vary greatly depending on the material, style, and brand you choose.
Compare Prices
Wood frames are typically more expensive than vinyl and aluminum, though they do offer the highest level of insulation and aesthetics. On average, wood-frame windows cost between $400-$800 per window.
Vinyl frames are generally more cost-effective, costing between $200-$600 per window, while aluminum frames cost an average of $150-$450 per window.
Bay and bow windows can also vary depending on the materials used and the complexity of the installation process but typically range from $700-$3,000 per window.
Prices generally range anywhere from $300 to $1000, so it's important to factor in your budget when selecting replacement windows.
Ultimately, the cost of replacement windows will depend on the materials, style, and brand you choose for your home. Replacing old or outdated windows is a great way to increase your home's value and aesthetic appeal. the material, energy ratings, warranty, installation process, and cost. With these factors in mind, you can be sure to find the perfect windows for your home.
Compare Prices