The Top 10 Best Windows in 2023
Windows are more than just openings that let light into your home; they're critical elements of your home's design and energy efficiency. Here, we've compiled a list of the top 10 best window brands available in 2023, taking into account factors like durability, aesthetics, and energy efficiency.
Compare Prices
1. Andersen E-Series Windows
Renowned for their exceptional quality and customization options, the Andersen E-Series windows are an excellent choice for homeowners looking to add a touch of luxury to their properties. They come in an array of materials, styles, and finishes, offering unlimited possibilities for customization.
2. Pella 250 Series Windows
Pella is a respected name in the window industry, and their 250 Series windows don't disappoint. They offer excellent energy efficiency and noise reduction, making them a favorite for urban homes. Their Duracast® material—a high performance composite—is incredibly durable and resistant to warping and rotting.
3. Marvin Ultimate Windows
Marvin Ultimate Windows combine beautiful design with superior functionality. Made with Marvin's proprietary fiberglass, these windows are strong, durable, and available in a wide array of styles, making them a popular choice among homeowners.
4. Milgard Tuscany Series Windows
Milgard Tuscany Series windows are known for their traditional, timeless design and outstanding energy efficiency. These vinyl windows feature a premium exterior finish and come with a Full Lifetime Warranty, providing homeowners with peace of mind.
5. Simonton ProFinish Window
The Simonton ProFinish Window is an excellent option for new construction and replacement projects. It offers an impressive selection of styles and colors and is particularly appreciated for its energy-efficient design and affordable price.
6. Jeld-Wen Siteline Wood and Clad-Wood Windows
These high-quality windows from Jeld-Wen offer both the natural beauty of wood and the durability of modern materials. They come in a range of styles, including double-hung, casement, and awning windows.
7. Kolbe Ultra Series Windows
The Kolbe Ultra Series offers the ultimate in window design flexibility. Available in a variety of styles and with numerous options for glass, wood species, and finishes, these windows allow for total customization.
8. Harvey Classic Vinyl Double Hung Windows
Harvey Classic Vinyl Double Hung Windows are known for their durability, low maintenance, and energy efficiency. The double-hung feature allows for easy cleaning and excellent ventilation.
9. Andersen 100 Series Windows
The Andersen 100 Series windows are an eco-friendly choice. Made with Fibrex® composite material that is twice as strong and durable as vinyl, these windows resist fading, chipping, and cracking.
10. ProVia Endure Windows
Rounding out our list is the ProVia Endure Windows. These high-performance vinyl windows offer superb durability, energy efficiency, and aesthetics. They feature a unique multi-chamber design and ComforTech Warm Edge Glazing, which increases thermal efficiency.
The best windows for your home depend on your specific needs, budget, and personal taste. Whether you prioritize energy efficiency, aesthetic appeal, or durability, there's an option out there for you. Always remember to consider the product's warranty and the reputation of the manufacturer when choosing windows for your home. It's an investment that should last for years and significantly impact your home's comfort and value.
Choosing the Best Types of Windows for Your Home
When it comes to selecting the right windows for your home, the choices can be overwhelming. Between double-hung windows, casement windows, replacement windows, and single-hung windows, it can be hard to know where to start. To help you make an informed decision, here's a rundown of some of the best types of windows for your home.
Double-hung windows are one of the most popular window styles, and for good reason. These windows have two operable sashes that allow for ventilation from the top, bottom, or both. This feature makes them extremely versatile and easy to clean. When shopping for double-hung windows, some of the best window brands to consider are Andersen, Pella, and Marvin.
Casement windows are hinged on one side and open outward with a crank or a lever. They are known for their excellent ventilation and unobstructed views. They also provide tight seals for improved energy efficiency. Brands like Andersen, Jeld-Wen, and ProVia offer a range of high-quality casement windows.
If you're not planning a major renovation but still want to upgrade your home's energy efficiency and curb appeal, replacement windows are a great option. Replacement windows are designed to fit into the existing window opening, making them an economical and less intrusive solution. Look for brands such as Simonton and Milgard for high-quality replacement windows.
Single-hung windows are a classic choice, especially for traditional or historic homes. They have one movable sash (usually the bottom one), which can provide sufficient ventilation. These windows are generally more affordable than double-hung windows and are offered by a range of best window brands, including Pella, Andersen, and Jeld-Wen.
Awning windows are hinged at the top and open outward from the bottom. They're a great option for allowing ventilation even during rain, as their design creates a sort of 'awning' to keep moisture out. Marvin, Andersen, and ProVia offer a selection of reliable and attractive awning windows.
Box windows, also known as bay or bow windows, project outward from the house, creating a wide view and adding extra interior space. They can add a unique architectural element to your home and are offered by brands such as Andersen, Pella, and Jeld-Wen.
The type of window you choose for your home will depend on a variety of factors, including your home's style, your budget, and your specific needs for light, ventilation, and insulation. Be sure to consider all these factors and consult with a window professional if needed. With the wide range of options offered by the best window brands, you're sure to find a solution that suits your home perfectly.
Compare Prices
Understanding Different Window Materials: How to Make the Right Choice
When choosing windows for your home, the material is one of the most important considerations. The most common window materials are wood, vinyl, aluminum, and fiberglass. Each has its own set of benefits and potential drawbacks. Let's take a closer look at these materials to help you make the best decision for your home.
Wood Windows
Wood is a traditional material for windows that offers a classic, timeless appeal. It provides excellent insulation, and can be painted or stained to suit a variety of home styles. However, wood windows require regular maintenance to prevent issues like rot and warping, and they tend to be more expensive than other options.
Vinyl Windows
Vinyl windows are popular due to their affordability, low maintenance, and good thermal insulation. They're resistant to moisture and don't require painting or staining. However, vinyl windows have a somewhat plastic appearance that some homeowners don't prefer, and they're not as durable as other materials over the long term.
Aluminum Windows
Aluminum windows are durable, low-maintenance, and resistant to rust and corrosion. They also offer a sleek, modern look that suits contemporary home styles. However, aluminum isn't as energy-efficient as other materials, and can be prone to condensation.
Fiberglass Windows
Fiberglass windows are incredibly strong and durable, and they're resistant to weathering and thermal expansion. They can be painted, offering more color flexibility than vinyl. While they're more expensive upfront than vinyl or aluminum, their durability and low maintenance needs can make them more cost-effective over the long term.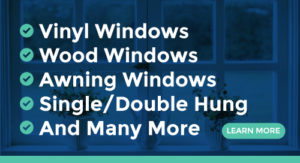 How to Choose the Right Material
Choosing the right frame material for your windows depends on a few factors:
Climate: If you live in a humid or rainy climate, you might want to consider vinyl or fiberglass windows due to their resistance to moisture. In a hot climate, wood or fiberglass windows with good insulating properties might be best.
Maintenance: If you're not inclined to regular window maintenance, vinyl or aluminum windows are a good choice as they require little upkeep. Wood windows, while beautiful, require more maintenance to keep them in top condition.
Budget: Consider not only the upfront cost of the windows but also the long-term costs associated with maintenance and energy efficiency.
Home Style: The material should complement your home's style. For instance, a modern home might look best with sleek aluminum windows, while a classic or rustic home would suit wood windows.
Energy Efficiency: If reducing energy costs is a priority, consider materials with good insulating properties like wood or fiberglass.
By considering these factors, you can choose the window material that best suits your needs, budget, and the style of your home. Always remember, quality matters, especially when it comes to something as important as your home's windows.
Compare Prices
Exploring the Best Window Brands and Types for Different Climates
The climate in which you live plays a significant role in determining the type and material of windows that will work best for your home. From box windows to awning windows and from wood windows to fiberglass, the options can be overwhelming. This guide will help you understand which window brands and types are most suitable for different climates.
Cold Climates
In cold climates, energy efficiency is the primary consideration. Windows with double or triple glazing, low-E coatings, and gas fills are preferred for their insulation properties. Wood windows, known for their excellent insulation, are a good choice. The Andersen E-Series and Pella's Designer Series both offer beautiful wood windows that perform well in cold climates.
Bow windows and box windows, with their expansive glass panes, can provide great insulation while maximizing natural light, which is often scarce during winter months. Marvin's Ultimate Bow Windows and Andersen's box windows are excellent choices.
Warm Climates
In warm, sunny climates, windows should minimize solar heat gain while still allowing for plenty of light. Vinyl and aluminum windows, with their low thermal conductivity, can be a good choice. Milgard's Tuscany Series offers vinyl windows with a premium exterior finish that can withstand harsh sun. Jeld-Wen's Aluminum windows are another good choice.
Casement windows and awning windows allow for ample ventilation, which is crucial in hot climates. The Pella 250 Series and Andersen 100 Series offer high-quality casement and awning windows.
Humid Climates
In humid climates, the main concerns are moisture resistance and ventilation. Fiberglass and vinyl windows are particularly resistant to moisture and won't warp or rot. Consider the Marvin Ultimate for fiberglass windows or Simonton ProFinish for vinyl.
Awning windows can provide ventilation even during rain, as they open outwards and create a sort of protective 'awning' over the opening. ProVia's Endure windows and Andersen's awning windows are worth exploring.
Coastal Climates
In coastal climates, windows need to withstand strong winds and corrosive sea air. Aluminum and fiberglass windows are resistant to corrosion. Consider brands like Jeld-Wen for aluminum and Pella for fiberglass.
For added protection against wind and storms, consider casement windows, which seal tightly when closed. The Marvin Ultimate and Andersen 100 Series are good choices.
Choosing beautiful windows that are also appropriate for your climate can greatly enhance your home's comfort and energy efficiency. It's important to remember that no matter the climate, proper installation is key to window performance. By working with reputable brands and qualified professionals, you can ensure your windows will stand up to the elements while adding beauty and value to your home.
Understanding Window Price Ranges: What to Expect
When it comes to the cost of windows, there is a wide range depending on different window types, materials, and brands. The price range can be influenced by the quality of materials, customization options, energy efficiency features, installation complexity, and even the brand reputation. Here we will delve into the average cost for replacement windows and what you can expect based on customer reviews.
Basic Price Ranges for Different Window Types
Double-hung windows: These are the most common type of window. Prices can vary depending on size and material, but on average, double-hung replacement windows cost between $300 and $850 per window.
Casement windows: Casement windows typically cost a bit more than double-hung windows due to their hardware. You can expect to pay between $300 and $900 per window.
Awning windows: Due to their unique opening mechanism, awning windows can cost slightly more, with prices typically ranging from $350 to $1,050.
Box or Bow windows: These are more complex installations due to their size and construction. Prices can range dramatically based on size and material, but on average, they tend to cost between $1,400 and $3,800.
Single-hung windows: These are often the most cost-effective option for replacement windows, with prices usually ranging from $170 to $360 per window.
Keep in mind these prices are estimates and actual costs can vary depending on a range of factors, including the specific brand, your geographic location, and the complexity of the installation.
Compare Prices
Taking into Account Customer Reviews
When considering the cost of your replacement windows, it's also important to take into account customer reviews. Customers can provide valuable insight into the quality of the window, the durability, the energy efficiency, and the customer service of the company.
A window may have a lower upfront cost, but if customer reviews reveal that the window does not hold up over time or that the company does not honor its warranties, you may end up spending more in the long run.
On the other hand, a window with a higher upfront cost might have glowing reviews for its long-term durability and excellent customer service, making it a more cost-effective choice over the life of the window.
When shopping for replacement windows, consider the price range and average cost of the different window types you're interested in. Be sure to read customer reviews for additional insights, and remember that while cost is a significant factor, it's also important to consider the quality, durability, and energy efficiency of the windows. Investing in high-quality windows can save you money in the long term on energy bills and maintenance costs.
The Importance of Energy-Efficient Windows: A Guide
Energy efficiency has become a critical factor in the decision-making process for homeowners seeking to replace or upgrade their windows. Energy-efficient windows offer a range of benefits, from cost savings on utility bills to improving the comfort of your home. Let's delve into what energy-efficient windows are, their benefits, and some top choices in the market.
Understanding Energy-Efficient Windows
Energy-efficient windows are designed to prevent your heated or cooled air from escaping from your home. Their design features include multiple layers of glass, special coatings, quality framing, and innovative manufacturing techniques.
Multiple layers of glass: Most energy-efficient windows have two or three layers of glass. Some also contain noble gases like argon or krypton between the panes, which have higher resistance to heat flow than air.
Low-E glass: Low-emissivity (Low-E) glass has a special coating that reflects heat while still allowing light to pass through. This helps to keep heat inside your home in the winter and prevent it from entering during the summer.
Quality Frames: The window frame material plays a significant role in energy efficiency. Wood, vinyl, and fiberglass frames provide good insulation and make a window more energy-efficient.
Benefits of Energy-Efficient Windows
Energy-efficient windows come with several key benefits:
Lower energy bills: By reducing your home's heat loss and gain, these windows can help you save on heating and cooling costs.
Comfort: Energy-efficient windows help create a more comfortable home by reducing cold drafts and overheating.
UV Protection: Most energy-efficient windows block a significant amount of harmful UV rays which can fade your furniture, carpets, and curtains.
Environmentally Friendly: By reducing energy use, these windows not only save you money, they also help protect the environment by reducing greenhouse gas emissions.
Top Choices for Energy-Efficient Windows
Several brands offer highly energy-efficient window options. Here are a few:
Andersen Windows: Andersen's 400 Series windows are highly rated for energy efficiency and are available in a variety of styles and finishes.
Milgard Windows: Milgard's Tuscany Series vinyl windows meet or exceed Energy Star performance levels, and they come with a Full Lifetime Warranty for as long as you own your home.
Pella Windows: Pella's 350 Series vinyl windows offer superior energy efficiency and are up to 83% more energy-efficient compared to single-pane windows.
Simonton Windows: Simonton's Reflections 5500 series offers premium vinyl windows with standard Low E glass and Argon gas.
When shopping for energy-efficient windows, look for the ENERGY STAR label, a government-backed symbol for energy efficiency, to ensure you're getting a product that will perform up to standard.
Investing in energy-efficient windows can result in significant savings in the long run. Not only will you save on energy costs, but you'll also contribute to a greener environment and improve the overall comfort of your home. With numerous options on the market, you're sure to find the perfect fit that matches both your aesthetic and efficiency needs.
Compare Prices
Key Features to Consider for Your Replacement Windows
When it's time to replace your windows, it's not just about choosing any window that fits the opening. There are numerous factors to consider to ensure you are making the best investment for your home. Here are some key features to look out for when shopping for replacement windows from top window brands.
Window Lines
Top window brands often offer a variety of window lines to cater to different needs, budgets, and stylistic preferences. Some window lines are more focused on affordability, while others emphasize premium materials, high performance, or architectural authenticity. When exploring options, ask about the different window lines each brand offers and consider which one aligns best with your needs and budget.
Window Styles
The style of your window can significantly impact both the appearance and functionality of your home. From double-hung windows to casement, awning, picture windows, and more, each style has its own pros and cons. Consider how the window opens and closes, how it complements your home's architectural style, and how well it meets your ventilation and lighting needs.
Window Glass
The type of window glass is a crucial factor for energy efficiency, safety, noise reduction, and aesthetics. Consider options like double-glazed or triple-glazed windows, Low-E coatings, and gas fills for enhanced energy efficiency. For homes in noisy areas or with safety concerns, laminated glass can provide noise reduction and enhanced security. If privacy is a concern, consider options like frosted or tinted glass.
Durability and Maintenance
Look for windows that are built to last and resist harsh weather conditions, and that require minimal maintenance. Materials like vinyl and fiberglass are known for their durability and low maintenance needs. However, even the most durable windows can have components like seals that can fail over time, so consider how easy it will be to repair or replace parts of the window if needed.
Lifetime Warranties
Investing in replacement windows is a significant expense, so it's reassuring to know that your investment is protected. Many top window brands offer lifetime warranties covering various aspects of the windows, such as the frame, glass, and hardware. These warranties can provide peace of mind, knowing that if anything goes wrong due to a manufacturing or craftsmanship error, the company will repair or replace the affected component at no cost to you. Always remember to read the fine print, as certain conditions or limitations may apply.
Choosing the right replacement windows involves careful consideration of various key features. By understanding your options and considering factors like window lines, styles, glass types, durability, and warranties, you can make an informed decision and choose the best windows for your home. Remember, the right windows can enhance your home's aesthetics, improve its energy efficiency, increase comfort, and even boost its resale value.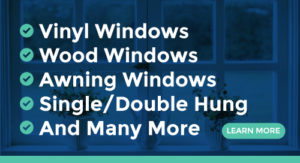 Discovering Your Best Options: Choosing New Windows
As we conclude our exploration into the world of replacement windows, it's worth noting that your final decision should be one that complements your home, boosts its value, and serves your practical needs effectively. As you venture into the market of new windows, remember that the best option isn't necessarily the most expensive one; instead, it's the one that best suits your individual requirements and circumstances.
Collaborating with Window Manufacturers
A key aspect of the journey to new windows is working closely with your chosen window manufacturers. Established manufacturers have a wealth of experience, technical knowledge, and a broad range of products. They can guide you on the best windows to choose based on your location, house design, and personal preferences.
Manufacturers can provide insight into the energy efficiency of different models, durability of materials, functionality, and style of windows. Take advantage of their expertise to make an informed decision.
Considering Additional Features
The standard features of windows are certainly important, but additional features can provide enhanced benefits and make your windows stand out.
For instance, consider options like impact-resistant glass for areas prone to severe weather, or built-in blinds or shades for added privacy and light control. Special window coatings can reduce cleaning needs, and advanced hardware options can improve window operation and security.
Custom Windows: A Unique Touch
For those with specific aesthetic preferences or unusual window sizes, custom windows may be the best option. These windows are designed to fit your exact measurements and specifications, ensuring a perfect fit and a unique look. Custom windows can be designed to match the architectural style of your home, meet unusual size requirements, or cater to specific needs like enhanced accessibility or historical accuracy.
Investing in new windows is a significant decision that can greatly enhance the comfort, efficiency, and aesthetic appeal of your home. As you navigate the choices presented by various window manufacturers, consider both standard and additional features that may suit your needs. Don't forget to think about custom windows if you have unique requirements or want to add a distinctive touch to your home.
Remember, the best option for you is one that fits your needs and preferences while aligning with your budget. With careful consideration and informed decisions, you can enjoy the benefits of your new windows for many years to come.
Compare Prices