What Are the Different Types of Replacement Windows?
With so many options you may be wondering what are the various types of replacement windows. Replacing windows or constructing a new home? This guide will teach you about the types of replacement windows available for your project.
Your windows are the eyes to your home's soul. While most homeowners revamp other parts of their homes to enhance aesthetics and functionality, they forget windows.
Do you find your windows plain or old-fashioned? Well, picking the right window replacement types will transmogrify your space.
Whether to enhance your home's curb appeal, increase its value, enhance safety and security or improve energy efficiency, the right window replacement will get the job done. However, choosing the perfect types of replacement windows for your home is not a piece of piss.
Compare Prices
With the myriad of options in style, price range and design, you need to know exactly how to go about it and what to look for. So, how do you choose the right replacement windows to complement your home?
Here's a comprehensive guide on the different replacement window types in the market. Keep reading to know your options, their features and if they suit your space.
Double-Hung Windows
These are the most popular replacement windows that you are sure to come across in the market. Double-hung windows are designed with a lower and upper sash to help with lowering and raising the windows. This means you can open them either from the top or from the bottom.
These windows offer superior ventilation capabilities and the ability to regulate airflow. By opening the top section and leaving the bottom section closed, you allow fresh air into your home and keep your children and pets safe.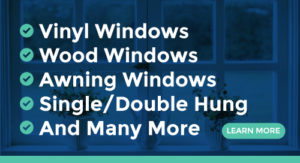 You can open both sashes for maximum ventilation. The bottom sash lets in fresh and cool air while the upper sash allows the warm air to escape.
Double-hung windows are also very popular due to their energy-efficient capability. Also, with double locking mechanisms, you can seal the window tightly to prevent air movement in or out of your home. This means the indoor temperatures will be maintained, thus improving energy efficiency in your home.
To maintain double-hung windows in perfect condition, it' crucial that you clean them regularly. In addition, lubricate the pully and lock mechanisms to prevent stiffness and rusting.
This type of replacement window also comes in different sizes, colors, styles, and finishes. Rest assured, you can find the perfect one to fit in your home's contemporary or modern style.
Also, remember the cost of your window replacement project depends on the volume of double-hung windows you install. The more units you install, the lesser price per unit will be.
Compare Prices
Single-Hung Windows
Unlike double-hung windows, single-hung windows come with only one sash. With a single sash, single-hung windows are opened from the bottom only. This design is a great option for large window space where it's unlikely to open the window from the top.
With only one sash opening, single-hung windows can be more challenging to clean compared to double-hung windows. This is especially when they are located in a high area in your home. However, opening one sash has a benefit too; this type is more energy-efficient than the double-hung windows.
Single-hung windows also present various styles, colors, and materials to pick from. The durability of this type of window will largely depend on which material they are made from. For instance, while the wood will offer you a natural and elegant look, it is not durable and requires higher maintenance.
In case you want the wooden feel on your replacement windows, you can opt for fiberglass material. This option is designed to look like wood, but it offers durability and requires little maintenance. Also, vinyl could be a better option for insulation and little maintenance.
Compare Prices
Sliding Windows
Sliding windows resemble sliding glass doors, and they open on a horizontal track. These windows are a great option for bathrooms and kitchens due to the extra ventilation they offer. However, this doesn't mean they can't be installed in other rooms.
Sliding windows offer much more window space translating to greater ventilation. These windows are also very easy to clean and maintain, and they are available in a wide range of sizes and styles.
Most people are hesitant when it comes to sliding doors and windows due to sticking. However, you don't have to be worried about sliding glass windows. Their weight is supported by an aluminum slow that doesn't warp, making the windows easy to operate without any sticking.
Also, sliding windows offer a great option for people residing in homes with short walls without using a lot of vertical space. In fact, they create an illusion that the walls of your home are taller than they are.
However, it's not all rosy with sliding windows too. If you are looking for an energy-efficient replacement window, they might not be your best option. When shut, these windows don't always seal and can result in air leaks which may increase your home's energy bills.
Also, it helps to ensure a qualified window contractor installs them for a perfect fit.
Compare Prices
 Picture Windows
Are you looking for an unobstructed view of your outdoor landscape? If so, then picture windows will be your perfect option. As their name suggests, these windows will transform your outside view into a framed picture.
Whether you have a beautiful garden, landscape, or mountains nearby, picture windows guarantee you the best view.
While picture windows offer scenic views, their downside is they can't be opened. If you need a room that requires an emergency exit or ventilation, picture windows are not your best choice.
Without any moving parts or spots, picture windows are also very easy to clean. Don't forget they also let in a lot of natural light, which alleviates the need to rely on artificial lighting always.
However, because they can't be opened, picture windows offer great insulation. Also, they have few gaps impeding water or air leaks.
Compare Prices
Casement Windows
For most homeowners, casement windows offer another great option for window replacement. On one side, these windows have hinges that open outward by turning the handle. They are a great option when looking for great ventilation and unobstructed views.
By opening completely, casement windows offer an excellent flow of air in and out of the room. However, these windows also take up a lot of space when opened and are thus not ideal for the patio or deck.
Their design also makes it very easy to clean, and most people will install them above the kitchen sink, where they fit perfectly.
One of the key drawbacks of casement windows is that they make your home easy to break into. To enhance security and deter break-ins, you may consider installing additional locks or security cameras.
Also, the cost of casement windows tends to be higher compared to other replacement windows options.
Compare Prices
Awning Windows
Like casement windows, awning windows open outwards, but they have hinges on the top and not on the sides. Awning windows can pair up stationary windows since they add ventilation and can offer some views. These windows are ideal fit above doors or windows where you want some hard-to-reach area ventilated.
One of the best features of awning windows is that they are weatherproof. Since they open from the top, creating an awning effect, these window replacements offer protection against weather elements while still offering ventilation. This means even when it's raining, they will still allow for airflow without the risk of water entering your home.
Also, awning windows offer high privacy and security. Due to their small size, these windows can be installed high up on the wall offering ventilation and natural light without compromising on safety and privacy. With this, awning windows are perfect for bedrooms and bathrooms.
Awning windows also offer versatility with multiple options for design and styling. For instance, awning windows can have window grilles in a certain pattern to have a striking appearance. Different options for asking windows include fiberglass, wood, impact-resistant, vinyl-clad, and aluminum-clad.
However, since they can easily obstruct movement outside, awning windows aren't suitable near the sidewalk or patio.
Compare Prices
Bay Windows
Are you looking to add some extra floor space to your room? If so, bay windows may be your ideal option. They are a beautiful and stylish addition to any home.
Bay windows consist of three windows protruding at an angle between twenty-five and forty-five degrees. Typically, the center window is large with smaller side panels that can also open. This implies you get three distinct focal points with bay windows.
Due to the protrusion, bay windows also add a dramatic look to the exterior style of your home.
Due to the great outdoor views they offer, bay windows can suit the living room. Also, they ate strong, durable, and let in a lot of natural light into the room. They are ideal for smaller rooms with their shape opening up the room to make it feel bigger.
However, to cover them for privacy, bay windows require custom window treatments due to their shape. Also, they are not an ideal option for a home without a strong foundation.
Compare Prices
Bow Windows
Rather than the three panes in bay windows, bow windows have four or more pans. Also, the angle of projection in bow windows is between ten and fifteen degrees.
The panes are of equal size in bow windows and extend past your home's wall in an eye-catching curving shape. There is no general way to fix or operate your windows, and you have room to express your creativity. Unlike other window replacement types, bow windows are customizable to meet your specific needs and wants.
But regardless of how you choose to fix or operate your bow windows, you can be sure of scenic panoramic views of the outdoors.
Since they are larger than the standard window replacement types, bow windows let in more natural light into your home. Also, with the protruding design, bow windows can offer extra space for storage, seating, or even decorating.
However, bow windows are expensive, with the cost largely depending on the frame material.
Compare Prices
Jalousie Windows
Jalousie windows are an ideal option for homes with a retro and unique style. They feature a modern design offering a functional and sleek alternative. Jalousie windows consist of narrow glass pieces placed parallel to each other, opening and closing simultaneously.
Jalousie windows are very easy to open and also offer excellent ventilation. Similar to an awning window, Jalousie windows allow for airflow without letting in snow or rain.
Also, these windows will allow natural light in your home but block direct UV light. This means you don't have to worry about your home interior becoming too hot or your furniture sustaining damages from direct sunlight.
However, Jalousie windows offer an easy break-in point into your home. Also, they are not airtight, thus not an ideal option where insulation is required. The windows can also encounter mechanical problems if they are exposed to humidity and rain frequently.
Compare Prices
Custom Windows
So, you didn't find what you are looking for in the perfect replacement window for your home. Well, you may just be looking for an option to express your style, personality, and creativity, and custom windows will offer you that. Custom windows allow you to choose the size, shape, material, and frame angle depending on your specific preference and needs.
Custom-built windows to ensure that your personal style is reflected on your windows too. While you can find some already built custom windows, you can brainstorm and develop a unique design and style for your windows.
One of the major drawbacks of custom windows is that there more expensive than other window replacement types.
Compare Prices
You Now Know Different Types of Replacement Windows
Choosing the right types of replacement windows in your home can offer multiple benefits. However, picking the best option will depend on your style, type of home, and location of your windows.
Are you looking for replacement windows? 3Window Estimates.com got you covered. We help homeowners find a great selection of replacement windows, offer free advice and quotes from local contractors using our online tool.
Contact us today for a free quote.
Compare Prices