Window Replacement Contractors: Top Questions To Ask Before Hiring One
Thinking of replacing your windows? Chances are, this isn't a bad idea. New windows can make your home more energy efficient, improve your curb appeal, and increase your overall property value.
However, none of these things are a given. For example, not all windows have a great energy performance rating. Plus, windows that are installed poorly won't prevent energy loss or give your home a more attractive exterior.
COMPARE OPTIONS AND PRICES
How can you get the most out of your window replacement? The key is to hire the right window replacement contractors. If you're new to hiring contractors for something like window replacement, we're here to help.
As always, our goal is to provide window replacement tips and help you to find the best window replacement services for the job. Read on to find out what kinds of questions you should ask window replacement contractors before giving them the job.
Is Your Business Licensed and Insured?
Before you even consider hiring a window replacement contractor, make sure that they are fully licensed. Licensing requires contractors to meet certain standards, which means that a licensed window replacement contractor is far more likely to show up prepared and experienced than an unlicensed contractor.
The most important thing is that to maintain licensing, contractors must carry insurance. This insurance is crucial because it protects you from the liability that comes with having work done on your home. Common types of insurance that window replacement contractors carry include:
worker's compensation
general liability insurance
If an uninsured window replacement contractor gets injured on your property, you may be looking at a claim filed with your homeowner's insurance.
You can also inquire about what a contractor's insurance policy covers. In addition to worker's compensation, it's ideal to find a contractor whose insurance will cover any damage done to your property during the job. Window installation tends to go smoothly, but accidents can happen, and you want to make sure that you're not held financially responsible if they do.
What Types of Windows Do You Offer?
Chances are, you have a distinct vision for your home upgrade. Make sure that you ask about the types of windows a contractor offers, such as:
bay windows
double hung windows
single hung windows
dormer windows
round windows
skylights
While many companies offer a wide variety of windows, some specialize in just one or a few types.
If you plan on replacing old windows with something entirely new (ie replacing a picture window with a bay window), make sure that you bring that up. Some contractors will only do replacements when the new windows will fit in the existing casing.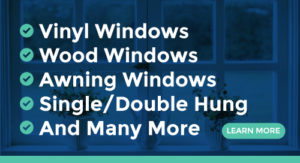 Finally, ask about the different brands a contractor offers. Do they have a high-quality selection of brands, such as Alside and Pella?
If a contractor only offers one brand, make sure it's the brand you really want. Oftentimes, contractors that don't offer a wide variety of brands are more interested in making the sale than meeting your specific needs and desires.
Can You Tell Me About Energy Performance Ratings?
These days, savvy homeowners are always looking for ways to maximize their investments and make their homes more energy-efficient. An experienced window replacement contractor should be able to tell you about the energy performance ratings of all of their available windows.
In fact, window replacement contractors with a ton of experience may even be able to estimate the energy savings you would get with different windows. This process involves comparing the windows you have now to different Energy Star windows available today.
Keep in mind that if you're replacing newer windows, your energy savings may be lower than homeowners who are replacing single-pane or old windows. That said, you should always look for new windows that have a high energy performance rating and is suitable for your specific climate.
What Kind of Experience Do You Have?
Chances are, there are a handful of window replacement contractors in your area. Why not hire the contractor that has the best experience for the job?
You can often find information about a company's history on its website. Look for things like the number of years the company has been in business. You can also ask directly about experience levels to find out more about employee training and experience, too.
If you can only track down newer companies, don't sweat it. There are plenty of ways to verify that a newer contractor is doing good work, including by asking for references.
Do You Have References?
It's always a good idea to find out what previous clients have to say about a contractor. By looking at reviews and asking for references, you can learn more about a contractor's professionalism and performance. You might also find out how previously installed windows are holding up after the fact.
To find reviews, you can look for a testimonials page on a contractor's website. You can also head to popular review sites such as:
Yelp
Google Review
Better Business Bureau
Remember, a few mediocre reviews don't outweigh a majority of four and five-star reviews.
In addition to looking for online reviews, you can ask a window replacement contractor for references. They should be happy to put you in touch with previous clients. They may also have a portfolio of completed work that you can browse to get a visual sense of their abilities and strengths.
How Do You Handle Complaints from Clients?
In an ideal world, your window replacement process would go off without a hitch. In fact, this is the case more often than not. However, issues can arise between clients and contractors, and it's useful to know how your contractor handles these sticky situations.
One way to learn more about this is to read any negative reviews a contractor may have received. See if the contractor responded and what they said about the complaint.
You can also ask if a window replacement contractor has ever lost their license or a job due to unresolved client complaints. If you feel that they aren't forthcoming with this information, check the Better Business Bureau to learn more.
Do You Offer a Warranty?
Before you sign any contracts, make sure that you understand what kinds of warranties you are agreeing to. Warranties tend to include:
manufacturer's warranties
workmanship warranties
Keep in mind that there is a difference between a manufacturer's warranty and a workmanship warranty. In an ideal situation, you want to have both.
A manufacturer warranty provides coverage for the windows, themselves. If any unusual defects become noticeable after you've had your windows installed, you can use the warranty to recover replacements or repairs. Manufacturer warranties tend to last for around ten years.
A workmanship warranty provides coverage for any problems that arise in relation to the installation. In other words, if your contractor doesn't install your windows properly, you can use the warranty to recover corrective work. Workmanship warranties last anywhere between one and five years.
What Do I Need to Do on the Day of Window Replacement?
Your life is busy and scheduling major upgrades like window replacements can be tricky. Ask your window replacement contractor what they expect of you leading up to or on the day of window replacement.
For example, will they expect you to be home when they arrive? If so, this is something you need to know in advance so that you can make the proper accommodations to be there. You can also ask if you need to be home for the entire process or just at the beginning and end.
A good rule of thumb is that you should clear out any areas near the windows you are having replaced. This includes moving furniture and valuables away from the windows. It also includes clearing enough yard space for your contractor to work from the exterior.
What Will Window Replacement Entail?
The window replacement process begins long before the date of your window replacement. Contractors must source their materials, which can impact the overall timeline of the project. Find out where they source their materials from and how long they expect that to take, particularly in light of recent supply chain shortages and delays.
You should also ask about what will occur on the day of your window replacement. How long should the process take? Who will be there to handle the window replacement?
One thing to keep in mind is that some companies hire full-time contractors while others work with sub-contractors. One is not necessarily better than the other, but full-time contractors are more likely to return in the future if you need any installation issues corrected. Some homeowners prefer working with familiar faces, rather than someone new every time.
What Is Your Availability?
It's possible that you have a specific timeline in mind for your window replacement. This is often the case when homeowners are preparing their houses for sale. Keep in mind that if you have a deadline, you should start looking for a window replacement service sooner rather than later.
Even if you don't need your window replacements taken care of on short notice, it's still useful to ask about availability. The last thing you need is to hire a contractor that is only available during a week that you are out of town or have guests coming.
If you are required to be there for window installation, availability matters. Some contractors can provide weekend services, while others only work during the week or charge a higher rate for weekend service. Keep in mind that window replacement contractors tend not to provide evening hours and will expect to schedule your services during the day.
COMPARE OPTIONS AND PRICES
What Can I Expect to Pay?
Now, it's time to talk about financials. While most homeowners prioritize cost, we urge you to weigh both cost and quality of services. Sometimes, the cheapest option is the cheapest option because they aren't doing great work or providing the best windows.
That said, your budget is important. Between energy savings and an increased property value, new windows do tend to pay for themselves, but it will take years to see that return on investment.
In order to get an accurate quote, you will need to provide information such as:
the types of windows you are hoping to purchase
the number of windows you are replacing
the location of the windows you are replacing (ie first vs second-floor windows)
any additional work that needs to be done, such as installing new window casings
Remember, the amount you pay may differ slightly from the quote you are given. This can reflect unforeseen obstacles, changes in the supply chain, and more.
Do You Charge for a Quote?
Believe it or not, some window replacement contractors don't offer free quotes. They may expect an upfront payment to deliver a quote, even if you don't sign a contract.
At 3 Window Estimates, we make it easy to get multiple quotes at no cost to you. Why risk an unexpected charge when you could get all of the information you need about your window replacements for free?
Let Us Help You Find the Perfect Window Replacement Contractors
Replacing your windows can provide tons of benefits, including increased property value and improved energy efficiency. The catch is that before you can start enjoying these perks, you'll have to find the right window replacement contractors. Use our window replacement guide to ask all of the right questions to make an informed decision.
Want to start narrowing down your options with ease? That's where 3 Window Estimates comes in handy. Use our free quote tool to start learning more about the window replacement contractors in your area and how much they charge for window replacement services.
COMPARE OPTIONS AND PRICES