How to Choose the Right Bay Window for Your Home
Energy bills are higher, and property prices are dipping. So homeowners are turning to home renovation projects instead, something to add beauty and make their houses more energy-efficient.
One of the most favored home remodeling projects is window replacements.
COMPARE OPTIONS AND PRICES
Perhaps you are considering adding bay windows to transform existing rooms into beautiful, bright, and stylish spaces. If so, read on as we explain how the choose the right option for your home.
What is a Bay Window?
A bay window is a large protruding set of windows set at an angle. It typically has three to four sides.
Bay windows were invented during the English Renaissance. They were featured prominently in buildings constructed between the 15th and 19th centuries, particularly in larger houses and mansions.
Many people love the traditional feel of having a bay window on their property today, adding style and charm to a modern home and offering a fantastic light source.
Consider Space and Measure Up
Before you choose a bay window design, you should first consider how the bay window will work structurally with your house.
You'll want to know that the internal space works for you (and it provides the space you expect) and that you have the room externally to install a bay window.
You will need a minimum width of 40 inches for a bay window. Some bay windows (sometimes called box-style windows) will require a larger space of up to 80 inches.
The depth of the window is the bit you measure externally. You will need anywhere from 12 inches for the smallest bay window style up to 24 inches if you want to build a larger window (or a box window style).
Consider the Light Source
Bay windows are a beautiful light source.
But before you decide on the style of window you want, don't forget to see what sunlight you'll get during the day. Will you get sunlight for most of the day, or does that part of the house sit in the shade?
The strength of sunlight might determine the height of the windows, shutters, blinds, and any lighting you install inside.
If the room catches a lot of light during the day, you might prefer a smaller window rather than opting for large window panes.
Type of Bay Windows
We've alluded to two different styles of windows so far, but there are four types of bay windows from which to choose. Here are the main features you'll find with each design style:
Canted
Some people refer to canted bay windows as "standard" as they are the most common of all the designs.
Canted bay windows have three sides; two windows on either side at an angle and one sizeable flat window in the middle. You're most likely to see these in a downstairs room, often the living room or occasionally a large kitchen and dining area.
Box
As the name suggests, box windows have a "box" or square shape to the window. So instead of the side windows sitting at an angle, they sit perpendicular to the wall.
That structure gives you more space to work, so this is the design you'll most often see when you want a large bay window.
They are most commonly used in large back rooms overlooking a garden, like an open-plan kitchen-diner or a living room.
Oriel
Oriel bay windows have more of a balcony feel, as the construction doesn't include the window to the ground but about one or two feet above it.
For that reason, they are more common in upstairs rooms like bedrooms. And they tend to be smaller, although homeowners often like to convert them into small window seats.
Circle
The final style of window you'll sometimes see in homes is the circular bay window.
As you can probably guess, the name comes from the geometric shape of the window; it has a semi-circle design rather than an angular or box shape.
You'll achieve that by using narrower panes of glass in larger quantities. They tend to work best in larger rooms and work equally well either upstairs or downstairs.
COMPARE OPTIONS AND PRICES
Material
As well as the window shape, you'll also need to decide what material you want for your bay window. Here are the most popular options.
Vinyl
Vinyl is the lowest-cost option, so it will probably be your favored choice if you are on a tight budget.
However, they aren't the most durable of all material options, so keep that in mind. It could potentially mean higher long-term repair costs and may need replacing sooner.
However, in the short term, they are low maintenance. Once installed, you won't need to paint the frames. All you'll need to do is to keep them clean.
Aluminum
Aluminum is highly resilient, so it's an excellent long-term option. It's a mid-budget choice; it won't blow your budget.
You'll often see aluminum used in modern architecture, so keep this in mind. It will work well if your house is relatively modern but may look out of place if you have a more traditional house design.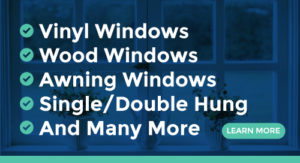 Aluminum is also a favorite for those wanting an eco-friendly home. You can use recycled aluminum, and it is still a material that future generations can recycle if the windows need replacing several decades from now!
Wood
Wood is the classic choice for homes owners who desire a more traditional look and feel. They are also the only option if you want to install traditional wooden shutters on your bay windows.
Wood windows go beautifully with bay window designs because they add a touch of history; it was the only material used in bay windows centuries ago when they first became fashionable.
Wood is also a fantastic natural insulator for a home. If you want to reduce your energy bills in winter, wooden windows will help you do that.
Though wood windows are long-lasting, they need plenty of care and attention. You'll need to treat the wood to protect it from the elements.
Fiberglass
Fiberglass is the most expensive option but also the most durable.
So the long-term cost is the lowest when you choose this material. Fiberglass is also exceptionally strong, so you are less likely to experience damage in the case of extreme weather events.
But the main reason people choose fiberglass is because of the superior insulation qualities of this material. You'll keep your home warm in the winter, and you won't have to raise the thermostat on a cold day.
Pricing
The size and style of your preferred bay window will determine the cost you pay. Bear this in mind when requesting a quote.
But here is some guidance on the typical costs of a new bay window installation, which includes preparation work and material as well as the installation.
Low-Budget Installations
Expect to pay between $500 and $2000 for a smaller window with a simple construction.
You'll probably choose vinyl for your window in this low-end budget range. For larger window styles like circle or box windows, expect to pay over $2000.
Mid-budget Installations
If you want aluminum or wood for your windows, you might pay a higher figure for the installation.
The range is between $400 to $2500. Wood windows cost more than aluminum. For larger box and circle windows, expect a higher quote than $2200.
Upper-Budget Installations
Fiberglass is the most expensive window option, but it's durable and provides excellent insulation and soundproofing.
Expect to pay between $800 to $2400 for a straightforward fiberglass window. But if you have a more complex or large design, you may pay more than that upper figure.
Other Costs
These costs are for the installation alone. Remember that you'll have to include other expenses in your budget. Those costs will include the following:
Custom-fitted blinds
Custom-fitted curtains
Painting and decorating
Any optional light fittings
It's worth pointing out that more complex bay windows will almost always require custom blinds, shutters, and curtain fittings.
As these are more expensive than standard measurements, you should factor that into your decision of what shape and size of the window will work best for your budget.
More standard measurements will often help you stick to a tight budget.
You might also want to add a fitted window seat indoors for the bay window.
You'll need to construct that separately, which could cost another $5000 – $1500 depending on the design and whether you want to add fitted or hidden storage.
If you have a flair for carpentry and textile work, you can fit a seat using wood panels and add beautiful cushions to the top!
Installation
An experienced installation team can construct and complete your window quickly and without fuss.
Nevertheless, knowing the end-to-end process will help you decide on the best type of bay window for your home.
Measuring and Assessment Phase
Measuring will help you decide what bay window is best for your space. Checking the area and measuring for the window must always be your first task.
You could ask a window installation team to do these measurements when quoting. However, taking some measures early on is still valid, even if they aren't to millimeter-level accuracy.
Cost and Quotes Phase
Next, it's time to get some quotes for the installation. Though the cost will be a significant factor in your decision, consider the company's experience constructing bay windows.
Have a look through a gallery of work to see what styles of windows they've installed before. If you can, read some customer testimonials too.
Installation Phase
The first part of the installation involves preparation work. The contractor will need to remove the existing window to make space for your new bay window.
When you choose a company, ask for timescale estimates for different styles and sizes of windows. That's important if you have limited time for your window upgrade (for example, if you plan on selling your house soon).
Finishing Touches Phase
The other thing to remember when choosing a bay window is what finishing touches you need and whether that design works with the rest of your home.
Start by considering the external design of the bay window.
The quantity and angles of the windows will change the overall look, and you want something that aligns with the rest of the windows in your house. Otherwise, a bay window will look out of place.
The property's age will also determine whether you want a more traditional bay window (such as a circle window) or a modern canted window.
Internally, examine the style of the room and how it will look with the new window. You might want to consider redecorating the entire room.
Think about how you want to use the window space. Do you want it to be minimal, adding light to a room without added function? Or do you want to use that space for extra storage and seating?
Consider this when choosing the window size if you want a window seat. A seated area will require a reasonable window depth.
COMPARE OPTIONS AND PRICES
Choosing a Bay Window for House Value
Finally, you might want to consider your house value when choosing what bay window to install.
That's essential if you intend to put your house on the market after the installation. You'll want to ensure you get more money back than it costs to install the windows.
But it's also helpful to consider the long-term property value, even if you don't plan to sell immediately.
But that doesn't mean choosing the cheapest window style to maximize your return.
A bay window is more likely to add value to your home if the style matches the rest of your house.
Plus, the bay window will add the most value when it offers something extra to your home, either as a design feature or by providing lots of light to an otherwise dark room.
Get a Quote Now
Bay windows could be a beautiful feature in your home. But it pays to choose the perfect design and plan before you begin the work to ensure you have the right window style.
Perhaps you've already measured your window area. Why not start the next stage of your window installation by requesting a quote from our experienced team?